STEP 1: Apply
Absentee Ballot applications were sent to all active Democrats. If you don't receive one, request one from your Town Clerk. You may request an application by mail as late as August 6th. If you request your ballot after July 31, we strongly suggest that you use the ballot dropbox to return your completed ballot (see below) to ensure that it arrives on time.
[Application in English]
[Application in Spanish; Aplicación en Español]
[List of Clerk addresses and contact info]

✅ Fill out the application completely. Check the COVID-19 box if that's the reason and sign the application. Be sure your Town Clerk's address shows through the window in the envelope. Return postage is paid already.
Step 2: Vote
When you get the Ballot, fill it out and return it.
Check to be sure:
✅ ONE Ballot per envelope
✅ SIGN, DATE, AND SEAL the inner envelope
✅ Make sure it ARRIVES at your Town Clerk by August 11.
We recommend using the Official Ballot Drop Box if you are able. The Drop Box should be outside your Town or City Hall. It looks like this: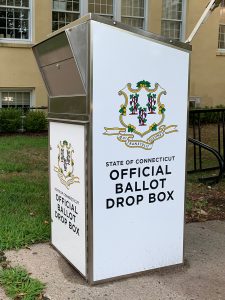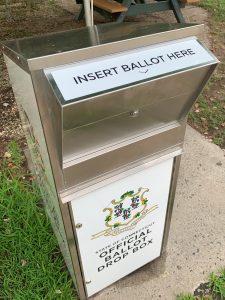 Details:
For the August 2020 Presidential and State Primary, all voters can vote by absentee due to the COVID-19 virus, pursuant to the Governor's Executive Order No. 7QQ. 
Just check the COVID-19 box on the application if that's the appropriate reason you're voting absentee.
The SOTS has mailed Absentee Ballot applications to all active Democrats. They arrive with a postage-paid return envelope.
If you don't receive a ballot you can contact your town clerk who can send you a replacement, or you can pick one up at Town Hall. Links are at the top of this page.
The Town Clerk will process the application and send out a ballot within 24 hours. Your completed ballot must be received by the Town Clerk by Election Day. If you aren't able to mail the ballot by August 5th we suggest you make arrangements to drop it either with your Town Clerk or at the new outdoor drop box that is installed in a prominent place in each town, most often outside town or city hall.
Make sure of the following to ensure your ballot is counted:
Put only one ballot per envelope
Make sure to sign and seal the inner envelope, and put your ballot in that envelope
Mark your ballot carefully – completely fill in the bubble next to your candidate's name, and don't make any extraneous marks or notes on the ballot
Keep your eye on the calendar and get that ballot in on time!
For more information see: https://portal.ct.gov/SOTS/Election-Services/Voter-Information/Absentee-Voting