An online video chat to benefit
CT Dems & FoodShare
About this Event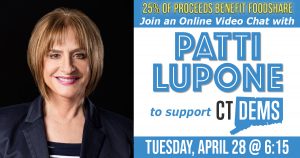 Patti LuPone, Tony Award-winning actress and singer known for her work in stage musicals like "Evita," "Les Miserables," "Gypsy," "Sweeny Todd," and "Sunset Boulevard," will join Connecticut Democrats for a virtual fundraiser on Tuesday, April 28 at 6:15 p.m. EDT.
The online event is the second in a series of "At Home" conversations hosted by CT Democrats Chair Nancy Wyman and State Comptroller Kevin Lembo, to benefit the state party and FoodShare*, a central Connecticut organization working to fight food insecurity.
Ms. LuPone, who is a Connecticut resident, will take questions from the hosts and participants.
A private URL link and password will be emailed to those "attending."  See you online with Patti LuPone!
Tickets: https://contribute.ctdems.org/page/contribute/at-home-with-harvey-fierstein-and-patti-lupone
* Foodshare is not a sponsor of this event, and does not endorse, support or oppose any candidate or political party.  Any individuals in any way associated with Foodshare which may be involved with this event are appearing in their personal capacity and on their own behalf, and not as an official officer, employee or representative of Foodshare, and any views expressed by such individuals are solely their own, and not those of Foodshare."
Date & Time
April 28, 2020
6:15pm-7:00pm