The world is watching Connecticut as students and women across the nation are shocked by allegations against Brett Kavanaugh during his time at Yale University.
The Republican Party has engaged in a concerted effort to target survivors, including this outrageous statement: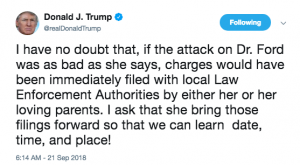 And today, Donald Trump doubled down on his claims that the newest allegation shouldn't be taken seriously.
As Connecticut is at the center of the national controversy, will candidates speak out to repudiate Trump?
Ned Lamont: Believes and stands with women
Bob Stefanowski: Silent
Susan Bysiewicz: Believes and stands with women
Joe Markley: Silent
William Tong: Believes and stands with women
Sue Hatfield: Silent
We know Bob Stefanowski gives Donald Trump an "A" grade, but this is a straightforward question: Do you stand with Trump and support Kavanaugh's nomination? Or do you stand with survivors?